Year 4
Mrs Jordan's email address is l.jordan@southfieldprimary.info
Mrs Hanham's email address is c.hanham@southfieldprimary.info
Maths - Mrs Jordan and Mrs Hanham would like you to use The White Rose Maths Hub home learning tasks to complete some maths activities. You can access them by clicking on the picture below.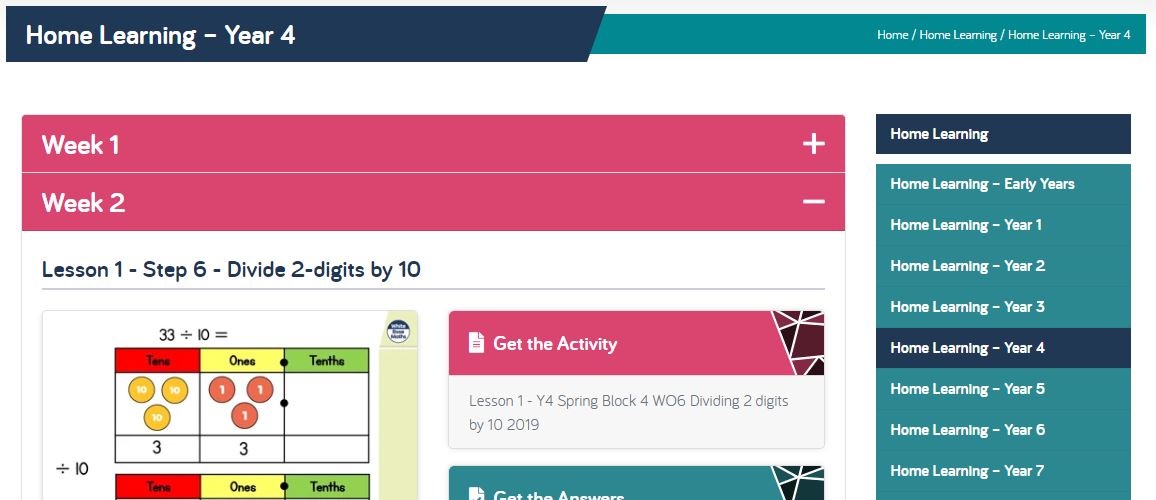 Home Learning Task for Year 4 - WC 29.06.2020 onwards
Maths
Please complete the daily maths sessions set by The White Rose Maths Hubs. These can found by clicking the link below. Mr Green will email the accompanying question sheets and last weeks answers on Monday morning.
https://whiterosemaths.com/homelearning/year-4/
English and Foundation Subject
Please complete the daily English lesson and foundation subject lesson set by our colleagues working on the BBC Bitesize Daily Lessons. These can be found by clicking on the link below
https://www.bbc.co.uk/bitesize/tags/z63tt39/year-4-and-p5-lessons
Home Learning Tasks for Year 4 - WC 22.06.2020
Home Learning Tasks for Year 4 - WC 15.06.2020
Home Learning Tasks for Year 4 - WC 08.06.2020
| | |
| --- | --- |
| | |
| | |
| | Wednesday 10 June - Chapter 4 |
Home Learning Tasks for Year 4 - WC 01.06.2020
Monday 1 June - English

O

Monday 1 June - other curriculum activities

Wednesday 3 June
Resources for WC 01.06.2020
Home Learning Tasks for Year 4 - WC 18.05.2020
Home Learning Tasks for Year 4 - WC 11.05.2020
Home Learning Tasks for Year 4 - WC 04.05.2020
| | |
| --- | --- |
| | |
| | |
| Maths answers - coming soon | |
Home Learning Tasks for Year 4 - WC 27.04.2020
A message from Mrs Hanham
Home Learning Tasks for Year 4 - WC 20.04.2020
Home Learning Tasks for Year 4 - WC 30.03.2020
Home Learning Tasks for Year 4 - WC 23.03.2020